Get information on serving in one of the branches of the U.S. military by clicking on the images below.  Information about educational opportunities in the military and local recruiting stations can also be found below
March 2023 Test Date coming soon!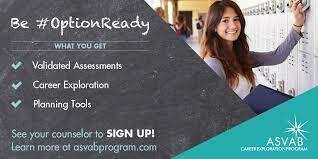 ​The ASVAB Career Exploration Program is a career planning and exploration program that combines a multiple-aptitude test with an interest self-assessment and a wide range of career exploration tools.  Sign up for this test in the counseling center.

​For ASVAB Prep information, visit the following:
​ASVAB Test Bank
March2Sucess
Selective Service Registration
All Male US citizens aged 18 or older are required to register with the Selective Service.  This does not mean you are joining the military!
Click HERE for fast and easy registration.