Please visit NCAA.org/playcollegesports
​for information to help high school student-athletes successfully transition to college. Student-athletes are guided through current and upcoming initial-eligibility requirements, recruiting guidelines, and timelines for staying on track in high school.
Make Sure You Are Eligible!
Division I requires 16 core courses. 10 of those 16 courses  need to be completed prior to your seventh semester. For most of you, that's the start of your senior year. Also, Division I student-athletes will be required to graduate with a minimum 2.3 GPA in those core courses. If you don't meet the academic requirements when you graduate, it's still possible to receive athletics aid. And you may still be able to practice. But you'll be stuck riding the bench. And who wants that? For the full list of initial eligibility requirements, visit eligibilitycenter.org and make sure you'll have the grades to play.
ELIGIBILITY CHECKLIST
At the beginning of your sophomore year, register at eligibilitycenter.org.
At the end of your junior year, ask your high school counselor to send your transcript to the NCAA Eligibility Center.
Take the ACT or SAT and use the code "9999" to have your official scores sent directly to the NCAA Eligibility Center.
Check with your high school counselor to make sure you are on track to graduate on time with your class and have the required amount of core courses.
Beginning April 1 of your senior year, request final amateurism certification.
Ask your high school counselor to submit your final transcript with proof of graduation.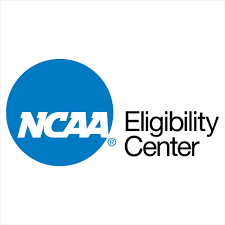 All students hoping to play D1 or D2 college sports must register with the NCAA eligibility center to ensure they have met eligibility requirements for Division I and Division II schools.
​
Students should register prior to the end of their junior year.