Welcome to
Jordan High School
New Student Enrollment
Students must register in-person at Jordan High School.
The registration process begins in the Attendance Office and includes meeting with your administrator and the registrar, paying fees, and meeting with your counselor to go over graduation requirements and to build your schedule.  
The following information is needed to enroll:
Immunization Records 
Birth Certificate 
Unofficial Transcripts 
Copy of IEP or 504 (if applicable)
If enrolling during the school year, we also need a withdraw form from your current school with current grades if applicable.
If you do not live in Jordan High School boundaries, please fill out a permit
This process takes approximately 1-2 hours.  The offices are open from 7 a.m. – 3:00 p.m. but it is suggested that students and parents arrive before 12:30 p.m. to ensure time to complete the process.  Call 801-826-6200 to schedule your appointment.
9th Grade Course Options
10th Grade Course Options
11th Grade Course Options
12th Grade Course Options
Visit Family Access at https://skyward.canyonsdistrict.org to complete online 2022-2023 Registration. If assistance is needed, visit Jordan High School's Attendance Office between 8 a.m. and 1 p.m. beginning on Wednesday, August 3rd, 2022.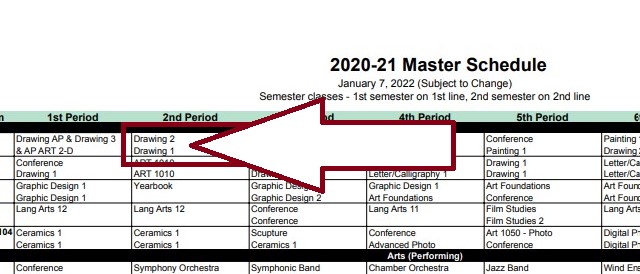 1st line – 1st semester 
2nd line- 2nd semester 
The schedule change period for 2nd semester 2023 has ended. No elective changes will be made at this point.
Jordan High School Schedule Change Policy
NO 2nd and 4th quarter schedule changes! We have a schedule change period at the beginning of the year, and a limited change period at the semester.
Jordan High School's classes are determined by student demand. Please thoughtfully select your course requests based on meeting graduation requirements, college admission requirements and building skills. Students are expected to remain in all classes selected. If the student requests a schedule change, changes will be addressed only during schedule change days. 
Students with essential changes such as an incomplete schedule, duplicate classes, seniors lacking graduation requirements, or getting selected for an audition course should make an appointment with their counselor.
All changes are subject to class availability and class enrollment size.
Once classes have begun, there will be absolutely no changes after 10 days into the quarter. In order to meet accreditation guidelines and standard instructional time requirements, students seeking high school credit for a course must be enrolled in that class no later than 10 school days after the beginning of a grading period. In addition, students seeking high school credit for a course should be transferred or withdrawn from a class no sooner than 10 school days before the end of the grading period. This policy also includes enrollment in online courses. Any course dropped after 10 days will result in an F grade.